Camping Tohapi Les Vignes (Lit et mixe)
Camping Tohapi Les Vignes : reviews, photos & coupon codes
Good reasons to go there on holiday
Laverie sur place

With an Indoor Pool

With sauna / whirlpool bath
Find the cheapest camping inLit et mixe among the widest choice of mobil home websites offering Camping Tohapi Les Vignes. Compare campings, consult reviews and price trends for Camping Tohapi Les Vignes in order to find your stay at the best price in Lit et mixe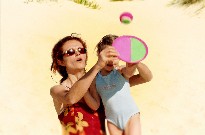 Adresse
Camping Tohapi Les Vignes
Route du Cap de l'Homy
Camping Tohapi Les Vignes
Camping Les Vignes without a doubt, is ideal for your next camping holidays in a mobile home at Lit et mixe. With just one click, you can compare the offers for a holiday in Camping Les Vignes and enjoy your camping holiday in Lit et mixe for the best prices.
Your camp site is situated in Lit et mixe, a place which is much appreciated.
You can take your pet on holidays in this camp site and you won't have to leave your cat or your dog behind. On holidays in Lit et mixe in this camp site, kids will enjoy the activities at the children's club and the entertainments. The aquapark of the camp site has waterslides which will appeal to families and especially to children. Take advantage of your holidays in this camp site to rent a bike and go cycling. On holidays in Lit et mixe you can have a swim in the indoor pool of your camp site. A catering service is available at the camp site, so that you can choose to relax at the restaurant. Holiday makers can relax in this camp site in the sauna or in the whirlpool bath available on-site. In this camp site you can choose to depart on a Sunday to avoid the usual traffic jam of Saturdays. A wifi area is available at the camp site so that you can connect even on holidays.

Price per mobile home and per stay(booking fees included)
Our favourites
LIT ET MIXE
Aquapark from 332 €/week on rental for 6 persons More details

Campings prices located nearby

Camping Tohapi Les Vignes