92 mobil home rentals in SAINT NAZAIRE available
Compare campings for your holiday in Saint nazaire
Holidays in SAINT NAZAIRE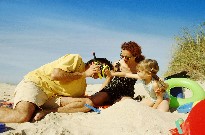 Find a camping holiday in Saint Nazaire. The resort has 20 different coves and beaches to choose from making it a very popular tourist destination. While your on holiday in Saint Nazaire, a visit to the Escal'Atlantic is a must. It's an international Ocean Liner Museum where you can see the Espadon submarine and the Saint Nazaire shipyard! Find a family friendly campsite in Saint Nazaire.

Where will you spend your next holidays this summer? If you dream of a family destination by the sea, why not opt ​​for a holiday in a campsite in Saint-Nazaire ? This beautiful town in the Pays de la Loire may surprise you with its way of life and places of interests. Between activities to practice on the long sandy beaches and the many summer events organized there, you will have no time to get bored!

Indeed, a wide choice of leisures are possible in this emblematic city of Loire-Atlantique. As a couple, with family or friends, many entertainments await holidaymakers on the seaside. In addition to the playgrounds on the beaches and the water sports such as the stand-up paddle which are proposed, many interesting activities can match your wishes. So book your campsite holidays in Saint-Nazaire.

An uncommon place is the submarine Espadon that immerse you to discover the everyday lives of submariners. The Ecomuseum is also a place not to be missed if you particularly like models of cruise ships, shipyards and seaplanes. New in Saint-Nazaire, a water park with 5 pools, a wellness area, a water slide with 4 tracks and an outdoor playground has opened in the heart of the city.

Compare campsite accommodations and find a mobile home rental in Saint-Nazaire to enjoy an exceptional environment and activities such as long walks. Moreover, a touristic tour of the city will give you an insight of historic districts or a glimpse of the harbor walks.