65 rentals in camping with 3 stars available on 22/01/2022
Your camping with 3 STARS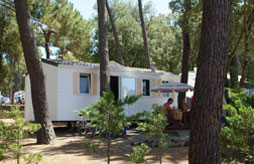 Accredited by the Ministry of Tourism according to a certain criteria regarding the comfort and the quality of the facilities offered to customers.

Services available at a 3 stars ratted campsite and residential parks:

These campsites offers a reception desk service available 24h/24 or a flag administration for residential parks customers. Staff are at least bilingual in addition to French. A playground is available in the common areas and a large number of various services such as: Internet access, beverage service, etc.